Magic: The Gathering Play At Home Friday Night Magic
31st December 1969

04:00 PM to 04:00 PM
Every week:Friday
Address: 333 Divisadero St. San Francisco, CA 94117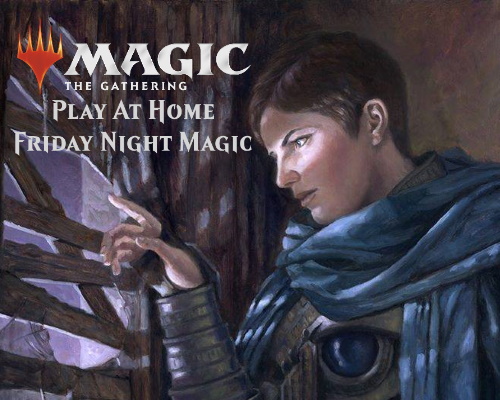 Play Magic: The Gathering from the comfort of your own home with Friday Night Magic at Home! Download Magic: The Gathering Arena and log in every Friday for new events.

Friday Night Magic at Home Schedule:

May 8 – Pauper
-Build a Standard deck using only common cards.

May 15 – Historic Brawl
-Build a Brawl deck using any cards from Historic.

May 22 – Historic Artisan
-Your 60-card deck can contain any commons, uncommons, and basic lands on MTG Arena.

May 29 – Cascade
-60-card Standard deck. The first time you cast a spell each turn, you'll get to cast another card from your library with a lower converted mana cost without paying its mana cost.

June 5 – Historic
-Bring a 60-card deck from among any cards available on MTG Arena.

June 12 – Momir
-You'll have a deck of all basic lands and an emblem you can click to discard a card and pay X to make a token copy of a random creature card with converted mana cost X.

June 19 – Historic Brawl
-Not quite Commander at home, but close. Build a 60-card Brawl deck with your Standard and Historic cards, then battle others.

Win or lose in any of these events, you'll still get a redeemable code for in-game rewards. Just send a picture of your event page to us by email, facebook, or our discord chat.

Join our online community at https://discord.gg/udY9T2s and visit https://magic.wizards.com/en/articles/archive/news/FNM_at_Home for the full details on how to participate in the event!