San Francisco's Games Headquarters since 1985
San Francisco's Games Headquarters since 1985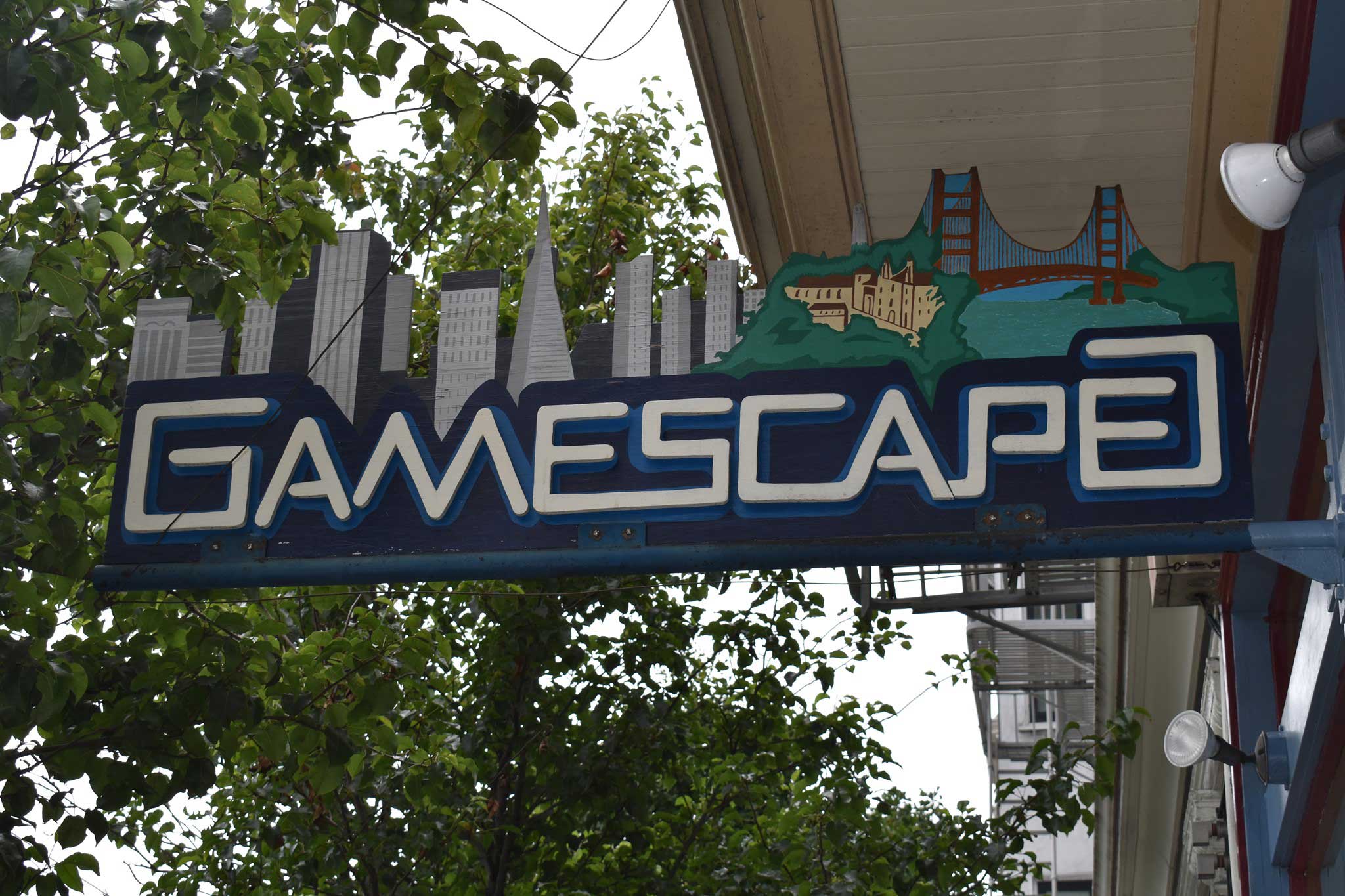 San Francisco's Games Headquarters since 1985
San Francisco's Games Headquarters since 1985
San Francisco's Games Headquarters since 1985
San Francisco's Games Headquarters since 1985
AT THE STORE
Gamescape is a friendly local game store (FLGS) located in San Francisco's Western Addition neighborhood. Gamescape strives to provide the latest that the world of tabletop gaming has to offer by continually updating a vast inventory of games on our shelves, and by maintaining a welcoming and comfortable space at our open tables.
Discover titles created by local game designers, which are some of the hidden gems offered in the store, or take home award-winning favorites to experience the phenomenon yourself. For an entirely different challenge, Gamescape stocks an extensive selection of jigsaw and mechanical puzzles as well. The store is comprised of the following nine unique departments:
Board Games
Asmodee
Kosmos Games
Mayfair
Rio Grande
Z-Man Games
Fantasy Flight
Hasbro
Mattel
Stronghold Games
IELLO
USAopoly
Renegade
Party Games
Bananagrams
Jenga
Cards Against Humanity
Pitch Storm
Monikers
Just One
Codenames
Apples to Apples
Wing It
Taboo
Scattegories
Trivial Pursuit
Murder Mystery
Trivia Decks
Collectible & Standalone Card Games
Star Realms
Magic The Gathering
Pokemon
Gloom
Set
Monopoly Deal
Werewolf
Keyforge
Arkham Horror
Legend of the Five Rings
The Resistance
Dominion
Game of Thrones
Miniature Games
X-Wing
Monsterpocalypse
Warhammer 40K
Malifaux
Star Wars Legion
Warcry
Kill Team
SPQR
Warmachine
Guildball
Age of Sigmar
Role-Playing Games
Dungeons & Dragons
Pathfinder
Starfinder
Star Wars: Force and Destiny
Dr. Who
Vampire: The Masquerade
The One Ring
Call of Cthulhu
Traditional Games
Chess
Backgammon
Go
Dominoes
Mah Jongg
Bingo
Chinese Chess
Poker
Shogi
Checkers
Liar's Dice
Bridge
Cribbage
Mancala
Playing Cards
Jigsaw Puzzles
Ravensburger
Pomegranate
Clementoni
Piatnik
Eurographics
Artifact (Wooden)
Masterpieces Inc
New York Puzzle Company
Dowdle
Areaware (Gradient)
Educa
Family & Children's Games
Thinkfun
Gamewright
Haba
Blue Orange
Peaceable Kingdom
Hobby Game Supplies
Army Painter
Reaper Paints & Minis
Card Sleeves
Dice
Playmats
Miniatures
Paints
Brushes
Meeples
Counters
Blank Cards
Hobby Terrain
Thanks for visiting us online and we look forward to seeing you at the store!
WHAT PEOPLE SAY
Jessica L
Fantastic game selection and helpful staff. On a recent visit, they were very patient with my kids as they carefully selected their purchase. Hoping to visit a game night soon.
Chris B
Once upon a time, I write a review of Gamescape that wasn't too kind. It was a snapshot of a time when, yeah, maybe the staff wasn't the most friendly to people they sniffed out as more casual gamers, and my own anxiety about being judged as a noob when I'd been tabletop gaming most of my life. But I have to correct the record--the shop as it is today is now one of my favorite places in all of San Francisco. First, the staff today is helpful, knowledgeable, and friendly. They may ask questions about what kinds of games you are experienced in and what you like, but not as a sizing-you-up. They know their selection is vast, and they are very good at suggesting games you and your friends and family might enjoy...
Jin Kim
I've been to the store a couple times and its always been fun.
Amanda C.
Cool game store with a large variety of games and puzzles. Area in the back where they have events each day. They have everything from games for kids, puzzles, popular board games/everyone's favorites. Stop in if you need a new board game for your game night or if you're just walking by!!
Eric R
"We long for fairytales in a world full of nightmares."

Gamescape since 1985. Wow how time flies. Gamescape has been located on Divisadero in the Western Addition for almost eternity. I admit I've been here a dozen times in another lifetime filled with dragons, fairies, ogres, and heroes. I also admit I'm from the old school of Dungeons & Dragons to Warhammer. Yet, I wasn't into the nerdy men sitting around a table with yesterday's pizza, man. I enjoyed my fantasy world with paint and brush strokes. I was one of those that painted these lead & pewter miniatures. To me it was all about Ral Partha & Grenadier...