Sonora
GAMEPLAY
One of Pandasaurus's newest releases, Sonora, is "the world's first flick-and-write game." And it plays exactly how it sounds! Each player takes a laminated scoring board, marker, and five numbered discs (1 through 5), and then players will orient the arena board relative to the first player. As the first player token passes around the table, the arena board will rotate with it!
The arena board features a whimsical depiction of the desert and is divided into thematic quadrants, each showcasing different aspects of the terrain. It is enclosed on all sides for some fun ricochet shenanigans, with small platforms on each corner from where you'll flick your discs. Each quadrant corresponds to a different scoring area on the laminated scoring board where you will be filling in a number of shapes or symbols based on the value of each disc.
On your turn, you'll flick two of your discs into the arena (except for the final turn when you only have one disc left) during the Flick phase, and then, once all players have flicked all five of their discs, you'll enter the Write phase. Each quandrant of the scoring board is unique, with different strategies and scoring triggers, so you'll have to be clever about how you apply your discs. In one section, you're racing to fill hexes in scoring features before opponents, while in the others you're placing shapes onto a crossword-puzzle-like map to collect cacti, crossing out steps on a branching pathway, or connecting dots to enclose still more cacti.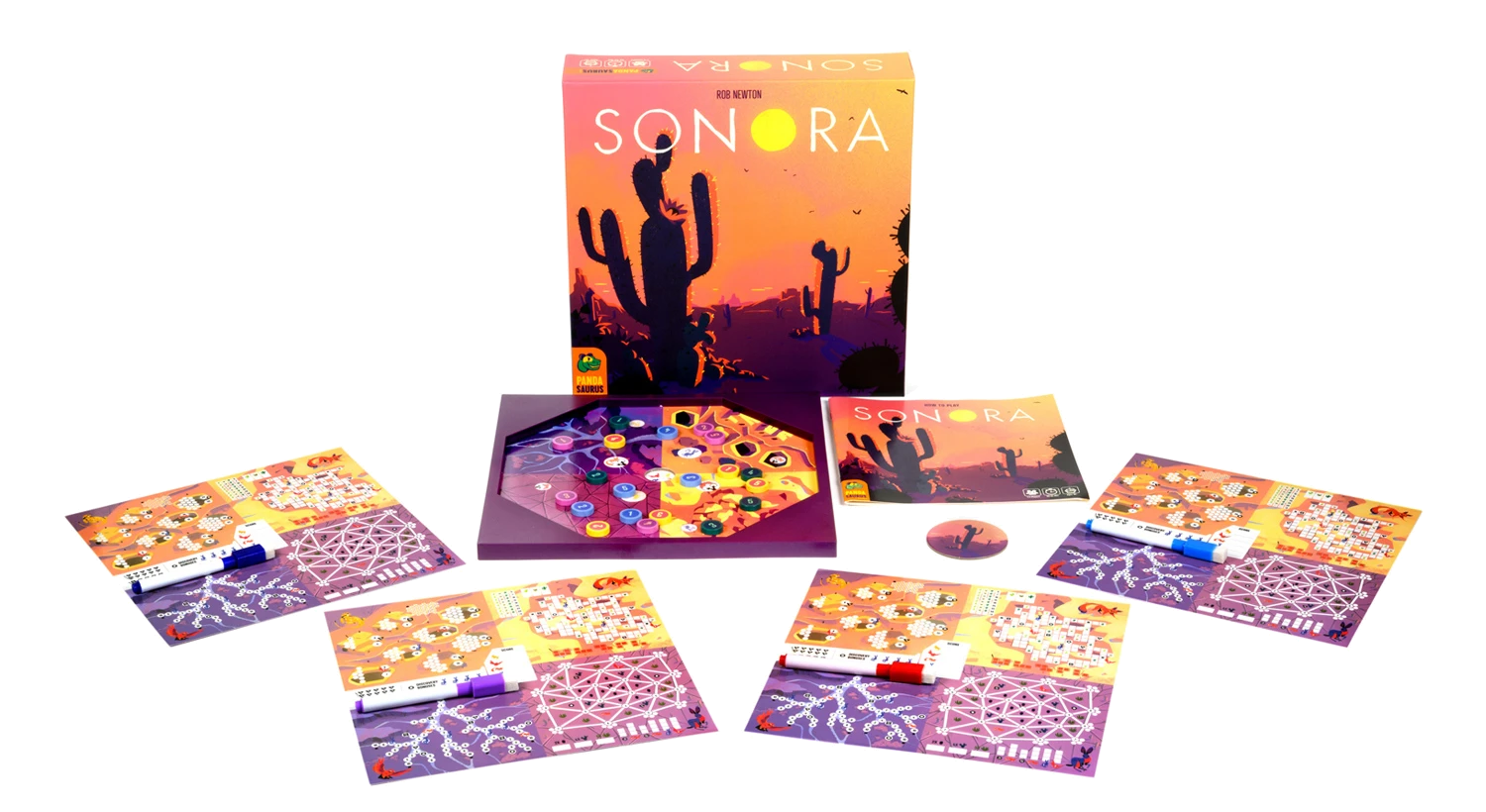 REVIEW
After a couple play-throughs, I can say that this game has a lot to offer. With variable game length, the chaos of bumping and ricocheting not only your opponents' discs but your own as well, and the surprisingly deep strategy needed to reach particular scoring goals, this game will provide plenty of replayability and, more importantly, super fun and exciting moments. The dexterity aspect of the game is certainly important, as there are small bonus circles in the arena that provide significant advantages during the Write phase, so be aware of that going in. However, even suffering through a few bad turns of missing out on those bonuses, you can still pull off some killer combos with skillful gameplay.
The components are all very colorful and quality-made, and the box insert is nice. Not necessary for such low-count components, but welcome nonetheless. As an aside, as much as I would love to focus on just what is in the box, I must admit I am excited at what I found on the bottom of the arena board - The actual floor of the board with the scoring quadrants is a removable component, which means we can (hopefully) expect expansions with new arenas, without the need for a new platform!
I definitely recommend checking this game out for yourself - it is well worth the $30 price tag. You can find it on our web store here.